PNM Butterfly Pavilion at the CABQ Botanic Garden Today
(9AM – 5PM; CABQ BioPark Botanic Garden) 
There's nothing quite like being in a garden surrounded by twenty-five species of fluttering butterflies. You can participate in this almost ethereal experience this weekend as the CABQ BioPark releases the butterflies this weekend in the Botanic Gardens. Check out caterpillars preparing to metamorphosis and learn about the role that butterflies play in pollinating our plants and collecting nectar. Butterfly Pavilion entry included in regular admission.
And, while you're there, who wouldn't like to explore the CABQ BioPark's Zoo? We have a free family four-pack of tickets to give away courtesy the City of Albuquerque. To enter send an email zoo@appcitylife.com your full name and phone number. You do need to be 18 to win; tickets can be used anytime except during special events. We'll draw a winner from the entries on May 27. You can check our full list of current giveaways in the APPCityLife iPhone app's Deals and Notices section on the landing page.
20th Anniversary Party of Harwood Art Center
(May 20; Harwood Art Center)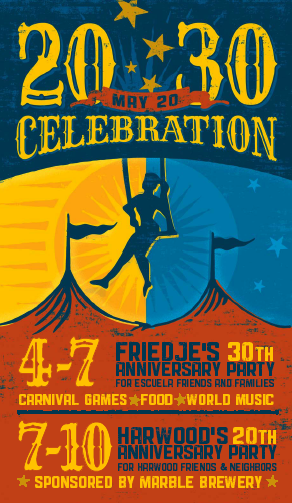 Help celebrate the 20th anniversary of one of Albuquerque's most active art centers tonight, 4-7 PM (family-friendly games, catered food, live music) and 7-10 PM (games, catered food and drink, live music, films and dancing). You can RSVP to the event online, and entry is free.
The Harwood Art Center is the creative community outreach project of Escuela del Sol Montessori, and for twenty years the center has been the backbone of much of the artistic initiatives and endeavors of locals – from youth art projects to community classes to studio space for artists. The celebration not only recognizes the 20th Anniverary of Harwood, but also celebrates the 30th Anniversary of leadership of Harwood's Founder, Friedje vanGils.
We Can All Be Irish This Weekend!
(May 21-22, Balloon Fiesta Park) 
(video of previous festival) This weekend we can all be a wee bit Irish, because it's the 23rd Annual Rio Grande Valley Celtic Festival and Highland Games. Held Saturday and Sunday at the Balloon Fiesta Park, events will include games like the Caber Toss, Scottish Hammer Throw, Sheaf Toss and the Stone Put. You can also enjoy the Pipe & Drum Dance. $10 1 day ticket/$15 for all weekend pass. Kids $5/$7