It's President's Day this weekend. For some it means a three-day weekend, but for all of us, here are some cool events to check out.
Steve Hanks Slide Show and Master Talk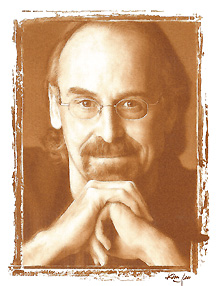 This Friday evening, World Renowned artist and water-colorist Steve Hanks will be giving a master talk and slide show at the James Dwyer Police Substation beginning at 5 PM with a reception and silent auction benefitting the New Mexico Art League prior to the talk.
Hanks began drawing at the age of sixteen when his parents moved the family from Southern California to Albuquerque, New Mexico. Many of Hanks' memorable works focus on a sensitive portrayal of women and children. Hanks has accrued an admirable array of awards and accolades including being named one of America's top ten artists by U.S. Art Magazine in 1993.
$25/person; call 505-821-4846 to reserve a seat.
E-Recycle Your Old Electronics
Finally – an excuse to clean out that old clunker of a computer taking up space in the garage. Whole Foods and Albuquerque Recycling are hosting an E-Recycling Day on Saturday, February 19, 9 AM – 1 PM at Whole Foods at Wyoming Blvd. NE and Academy Blvd.
2010 Oscar-Nominated Short Films
Curious about the short films nominated for the 2010 Oscars? Kimo Theater is showing each of the 5 nominated Oscar Shorts for each category: Documentaries, 2 PM; Live Action, 4:30 PM, Animated Short Films 7 PM. $8/category or $20/ Day Pass.
2nd Annual Mayors Track and Field Invitational
Come out and support the Special Olympics New Mexico 2011 Mayors Indoor Track and Field Invitational 10 AM – 2 PM at the Albuquerque Convention Center. Free Entry.